Robert Stanek - Meet Robert Stanek
---
Meet William's Alter Ego: Amazon.com and Audible.com Bestselling Author Robert Stanek
Check out Robert Stanek's books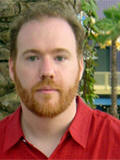 Robert Stanek's books have been featured in these printed books: Popular Series Fiction for Middle School and Teen Readers: A Reading and Selection Guide (Children's and Young Adult Literature Reference), Complete Idiots Guide to Elves and Fairies, and Ancient Art of Faery Magick; recommended by the Young Adult library staff at VOYA (Feb 2007), The Journal of Electronic Defense (June 2007), Parenting Magazine (Sept 2008), and others; and featured by Publishers Weekly (April 2009) and others. Reagent Press has been featured in Publishers Weekly, Children's Writer, The Children's Bookshelf, Foreword Magazine, Florida Today, Writer's Digest, The New York Times and other fine publications and periodicals.
In the spring of 2002, Robert Stanek's first books, Keeper Martin's Tale and Elf Queen's Quest, appeared on bookshelves and become instant bestsellers, spending a combined 26 weeks on the Amazon.com Sci-Fi/Fantasy Top 50 list. These stories introduced readers to the fantasy world of Ruin Mist. The name "Ruin Mist" is the common language translation of an elvish word, which means "the lost ages". The stories of Ruin Mist are set in a fictional past of our world.
Ruin Mist has three distinct realms of existence: Over-Earth, Under-Earth, and Middle-Earth. Over-Earth is the home of dragons, titans, and eagle lords, the great peoples of the past. Under-Earth is an otherworldly realm that has blood-red skies, and no sun or moon. Middle-Earth is the home of elves of the reaches and the men of the kingdoms. The history of Ruin Mist is divided into four ages: The First Age - The Age of Titans; The Second Age - The Age of Men, Elves, and Dwarves; The Third Age - The Age of Men and Elves; and The Fourth Age - The Age of Men.
The popularity of the Ruin Mist books built up through the release of the subsequent Ruin Mist books. Readers were taken with the magical realms, the grand adventures, and the combination of classic fantasy elements with a fresh, highly imaginative approach. In the spring of 2005, Robert Stanek's books were first published in audio and became instant audio bestsellers, spending more than 52 weeks on Audible.com's bestseller lists. In 2005, his book, The Kingdoms and the Elves of the Reaches, was a #1 Fiction bestseller for multiple weeks, a Top 10 bestseller for over 25 weeks, a Top 50 bestseller for 52 weeks and eventually the became one of the Top 100 all-time fiction bestsellers in Audible's history. The book was so popular, it was featured on the Audible.com home page throughout July and August 2005 and his books continued to be bestsellers on the Audible Kids & YA list for over 120 consecutive weeks, with the first book holding a spot in the Top 10 for 182 consecutive weeks out of over 14,500 other Kids & YA titles.
It's been a fairly open secret that Robert Stanek is the name of the more familiar bestselling author William Stanek. But Mr. Stanek, and his publisher, RP Books, were content to let the Robert Stanek books sell on their own merits with very little tie-in to William Stanek's award-winning, bestselling nonfiction books.
The main reason for using Robert Stanek for fiction and William Stanek for nonfiction was the astounding pace at which William Stanek produces books. With nearly 50 published books to his credit by 2002, he had many upcoming books waiting to be released by his current publishers, and was creating more and more fiction as a creative outlet to balance his work in nonfiction.
"I wanted to find audiences for both my nonfiction and my fiction. I love writing nonfiction works that help people learn how to do new things, but I also love writing fiction works that open new doorways to the imagination," explains Mr. Stanek. "The Ruin Mist books have been a part of who I am since I started them in the 1980s and they allowed me to create a magical realm with many levels of reality. I was overjoyed that I finally could share the realm and the books with others."
The Ruin Mist books have afforded Mr. Stanek an opportunity to explore relationships, family stories, epic sagas, myths, legends, and more. His books have been popular with fans both young and old.
"One of the things I wanted to do was develop characters and plots over many books rather than tying it all up in one," he says. "I wanted to explore these people and watch them change and dream their dreams book by book. The Alder family gave me an opportunity to explore the ties that bind siblings and parents, and the events that can change a family's destiny. Each book resolved a particular part of the epic saga of the kingdoms and reaches, but the character development, the growth, and the changes go more slowly. I'm enjoying that enormously."
So far things have gone well. His books for young people, including The Kingdoms and the Elves of the Reaches, Journey Beyond the Beyond, and In the Service of Dragons, have been well received, as have his books for adults, including Keeper Martin's Tale, The Pieces of the Puzzle, and Mark of the Dragon.
Stormjammers: The Extraordinary True Story of Electronic Warfare in the Persian Gulf War, a June 2006 release, began a new chapter for Robert Stanek. This work of nonfiction provides an inspiring story of family, honor, and duty in the midst of the Persian Gulf War. The book was published simultaneously in hardcover, trade paperback, and audio.
Robert, His Books and More
In 2005, Robert's books were recommended by and discussed in Popular Series Fiction for Middle School and Teen Readers: A Reading and Selection Guide (Children's and Young Adult Literature Reference), Complete Idiots Guide to Elves and Fairies, and Ancient Art of Faery Magick.
In September 2006, Wall Street Journal reporter Sarah Nassauer interviewed Reagent Press Vice President and Publisher Jeannie Kim for an upcoming story on the audio book industry. Sarah Nassauer's article "Home & Family: Getting an Earful of Printed Words" appeared in the print edition of the Wall Street Journal on 28 September 2006.
In February 2007, the Young Adult library staff at VOYA had this to say about Robert Stanek's The Kingdoms and the Elves of the Reaches:
Dramatic illustrations draw the reader into the Tolkienesque world of Ruin Mist, plunged into darkness after a Great War five hundred years past. Blaming magic for their demise, the Kings of Men have decreed that all things magical be destroyed. Yet despite their efforts, the magical Dark Lord is slowly returning to power. Another bloody battle is foreshadowed for Ruin Mist when Adrina, the spoiled and lonely princess of Imtal, is visited by a mysterious woman who predicts Adrina's ghastly future. Meanwhile in the kingdom of Elves, Seth, devoted First of the Red Order of the Queen Mother Elf, is sent on a journey across the Great Sea to prevent war. Stuck somewhere in the middle is Vilmos, a young magical boy-who-would-be-mage, abducted for his own safety by a Yoda-like guide named Xith. All three journey to an unknown fate against treacherous and sometimes supernatural foes. Stanek augments the beginning of this complex tale with illustrations that are sure to attract fans of graphic novels and classic Tolkien alike-the only weakness in the illustrations is their scarcity. Stanek will likely draw a cult following, but his work is not for the novice fantasy reader. A complicated glossary at the end includes twenty-two pages of "People, Places, and Things in Ruin Mist," complete with geographical references, family lineages, and extraordinary sketches. Despite the sophisticated plot, however, this cliffhanger guarantees fans, and those fans will be ready to wield their swords against the Dark Lord in Stanek's next installment.

In June 2007, The Journal of Electronic Defense gave his book, Stormjammers, their highest recommendation, saying:
EC-130s have participated in every significant combat operation US forces have been involved in for nearly two decades. Now, thanks to this book by former Compass Call "crew dog" Robert Stanek, readers can ride along with Stanek and his Grey Lady Compass Call crew during 32 combat missions from January to March 1991, during Operation Desert Shield and Operation Desert Storm.
Based on the author's daily dairy, Stormjammers: The Extraordinary Story of Electronic Warfare Operations in the Gulf War, published in 2006, allows the reader to experience the hours of boredom punctuated with moments of terror that are typical of combat flying. Although many of the stories are somewhat repetitive, this is what Compass Call life is like, and the book quickly becomes hard to put down. Even though the reader can anticipate what a mission will be like, the tedium gives over to an adrenalin rush of anticipation when things begin to happen. It is impossible not to share the relief and pride of the individual crew members when the attack missions they protect exit Iraq safely because the Iraqi air defense command and control nets were completely defeated by Compass Call's powerful, targeted jamming.
Stanek, whose Gulf experiences are given credit for launching his successful career as an international writer, bookends his story by relating a gut-wrenching experience many of us can relate to, telling one's wife that you are off to war. He shares arriving in Turkey to temporary quarters (old military classrooms) that "quickly began to smell like an old sweat sock," getting to the showers before the hot water runs out, as well as the joy of finding out that the commissary got a shipment of real steaks and trying to coordinate a mission to get there while they last.
Another side of the book lets the reader ride along when Stanek's EC-130H has two engines quit in the war zone, and just when bailing out seems a certainty milking the hobbled airplane back to base only to have to argue with the tower over who has the worse emergency, Grey Lady or the aircraft critically low on fuel just ahead of it. There are also the missions when AWACS, the key to Compass Calls' protection, had to bug out because of maintenance problems, and the entire crew gives a thumbs-up to stay on station and continue their protective mission even though the risk is much, much higher.
In September 2008, Parenting Magazine recommended Bugville Critters as part of their audio & story selections in partnership with Audible Kids. Specifically, the magazine recommended "Bugville Audio Collection 1" / "Bugville Critters Storybook Treasury Volume 1" which include the stories "Visit Dad and Mom at Work," "Go To School," "Have A Sleepover," and "Visit Garden Box Farms."

In April 2009, the Publisher's Weekly Cover Story, Good Worlds and Bad - Pure Escapism and Dystopian Visions, selected Ruin Mist Chronicles to feature and write about in the article. The article also features commentary from editors in the field and books of other authors. Kingdom Alliance: Special Illustrated Edition (ISBN: 978-1-57545-510-5) was one of eight books singled out in and featured in the article.

Learn more at www.robertstanek.com
Enter the world of Ruin Mist Movie
(c) 2005 - 2011 William Stanek